I was looking for something in my purse just now and I realized just how much stuff I was able to cram into a relatively small handbag. I have long been amazed at the kinds of things that women think to stow away in their purse - you know, just in case.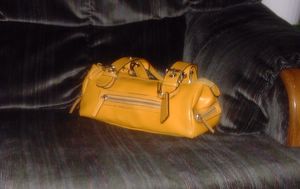 My Purse (bought at ALDO)
Right now in my handbag I have: Extra Strength Tylenol, 1 cold and flu tablet, several little salt and pepper packets, a sewing kit, a book of ten stamps, some fast food coupons, a small lipstick, two eyeliner pencils, a travel toothbrush and toothpaste, a hairbrush and small mirror, Visine, lip balm, several pens and hair elastics, some extra keyring rings, small box of crayons, a stuffed elephant (placed there by my daughter), a carabeener, a small pencil, band aids, extra bus tickets, little packets of moisturizer sun screen, tweezers, a small vanity kit with q-tips and emery board, a daytimer, address book, a small button that says Chicks Kick Ass, a bunch of small club discount cards, a leatherman micra tool set, folding scissors, nail clippers, various coinage, spare earrings and my wallet (ID, other cards, bus pass, cheque book, pictures of Duncan, Wesley, Raven and of our wedding, business cards - Duncan's and mine, and my growing collection of Return of the Sith movie tickets). Sometimes I also carry my sunglasses, my epipen and an inhaler, just not today.
What do you have in yours?