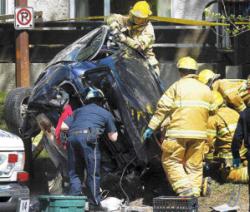 My daughter, Raven, learned some hard real life lessons yesterday when she inadvertantly witnessed a fatal collision in Calgary (Bonaventure Dr. S.W.). She was with her Dad when they watched a young woman speed by, only to have her tire blow, causing her to lose control of her vehicle. Her car rammed a minivan from behind, sending it airborne and into a roll... Out of the three people in the mini van only a 5 year old boy was wearing a seat belt. The woman driving was thrown clear of her van and landed head first on the road, while the other woman in the van was sprawled percariously across the back seat of the van with her legs hanging out of the back window (she's in serious condition). The offending car hit yet another car before it stopped.
Raven had to go with her Dad when he went to help. He checked for a pulse on the woman on the ground but she was dead, and then he helped an off duty policeman get the boy out of the van. Firefighters had to cut the roof off to get the other woman out. Raven saw up close the affects and graphic results of both speeding and not wearing your seat belt. I don't think it's anything that she is going to forget any time soon.
People, slow down. Wear your seat belts. What do you have to lose?